Description
Metric Halo LIO-8 Line-level Digital Audio Processor w/4 Preamp
LIO-8 Line-Level Digital Audio Processor w/4 Preamp is perfect for the customer who wants the ULN-8's archival grade converters, rock solid stability, ability to work with or without a computer and 4 channels of the ULN-8's boutique-quality mic pres, but who does not need +DSP.
Featuring archival-grade converters, dedicated analog-domain sends and returns, analog domain 7.1 monitor controller, AES interfacing, extensive front panel control with precision front panel metering all built atop Metric Halo's renowned 5th generation 2d Processing, Mixing and FireWire interfacing platform, the LIO-8 establishes a new competitive standard for professional audio.
LIO-8 features include:
 8 Channels of Archival Quality, zero-phase distortion DC-Coupled, Calibrated 192k A/D
 10 Channels of Archival Quality, zero-phase distortion DC-Coupled, Calibrated 192k D/A
 2 Channels of exceptional ultra High-Z Direct Input for instruments
 8in/8out 192k AES interface
 Full featured Front Panel tactile control surface for standalone and connected operation
 8 Channels of Analog domain send (for analog S/R before conversion and analog preamp output)
 Metric Halo's Exclusive Per-channel selectable Character
 Word Clock in and out
 Digitally-controlled Analog Domain Monitor Control
 Full-Featured 15 segment precision metering
 SMPTE I/O channels
 MIDI I/O for direct connect of Mackie Control Protocol Control Surface
 Integrated Mixing and Deep Instantiable DSP Processing
 Rock Solid Stability: Mature, Real-World-Tested Firmware & fifth-generation software and drivers
 FireWire Interfacing with ultra-stable, ultra low-latency drivers (FW400 & FW800 supported)
 Exceptional Power Performance (only 32 Watts – DC/Battery powerable)
 Low mass (8.5 lbs / 3.9 kg)
 Extremely Compact (everything in 1 RU)
 Rack Mountable
Add channels 1-4 of ULN-R preamps.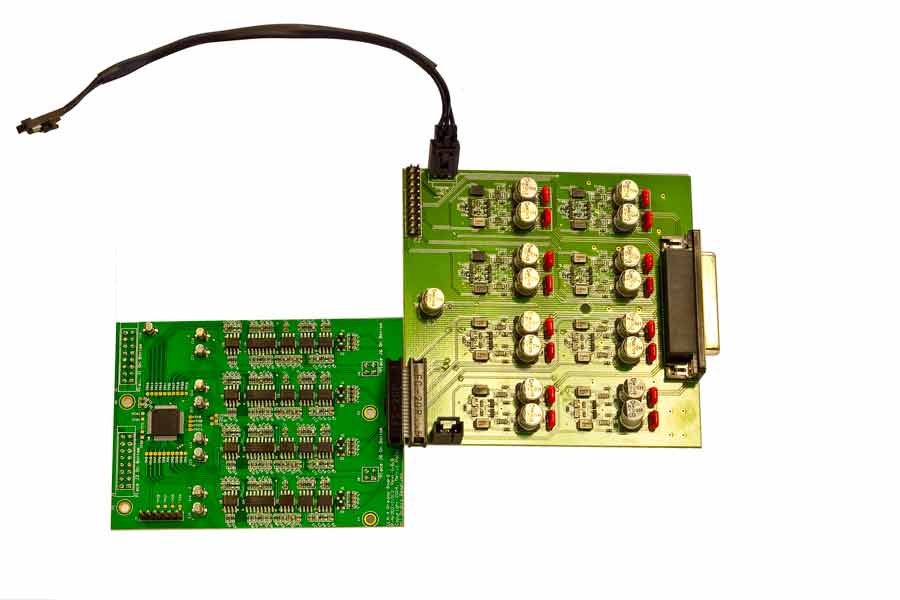 These are the same preamps as used in the ULN-8:
Mic Pre Input + ADC

Input Impedance
3.3 kΩ
Dynamic Range (-60 dB, flat 0-22.05 kHz, typ)
115 dB
Dynamic Range (-60 dB, A-weighted, typ)
118 dB
Noise Floor (flat 0-22.05 kHz, typ)
115 dB
Noise Floor (A-weighted, typ)
117.9 dB
Gain Range
-22 dB to +91.5 dB
Gain Precision
±0.05 dB
Gain Step
0.5 dB
THD D/A/A/D loop @ -12 dBFS
0.0007 %
THD D/A/A/D loop @ -12 dBFS +12 dB Gain
0.0015 %
THD D/A/A/D loop @ -0 dBFS
0.0023 %
Crosstalk @ 1kHz
-110dB
IMD 1k component (19 kHz/20kHz @ +8dBu)
-104 dBu
EIN @ 60 dB Gain (150Ω Source Impedance)
-130.50 dBu
EIN @ 60 dB Gain (0Ω Source Impedance)
-133.25 dBu
Analog Send Calibration (ADC = 0 dBFS)
+21.5 dBu
Phantom Power (Switchable Per Channel)
+48 Volts

Mic Pre + ADC Frequency Response

+0/-0.1dB @ fs = 44100 Hz
8.9 Hz – 20.5 kHz
+0/-1.0dB @ fs = 44100 Hz
2.9 Hz – 21.0 kHz
+0/-0.1dB @ fs = 96000 Hz
8.9 Hz – 43.9 kHz
+0/-1.0dB @ fs = 96000 Hz
2.9 Hz – 45.4 kHz
+0/-0.1dB @ fs = 192000 Hz
8.9 Hz – 42.1 kHz
+0/-1.0dB @ fs = 192000 Hz
2.9 Hz – 64.7 kHz
5° low-end in-channel phase deviation point
20.0 Hz
Interchannel phase 0 Hz – 20 kHz
< ±0.05°
Crosstalk from SMPTE Input
< -142 dB
Metric Halo's LIO-8 is "The Best of Everything You Need, Without the Stuff You Don't!"
The LIO-8 is ideal for the customer who wants the ULN-8's archival grade converters, rock solid stability, ability to work with or without a computer, and best in class value but doesn't need the mic pres (or doesn't need mic pres on all 8 channels), or the +DSP, or most combinations thereof. Therefore, Metric Halo offers the LIO-8 available with the following options, direct from the factory: